Once again the heels were put on (jeez they are killing me already) and we set off back to EPCOT on the bus. Tonight's dinner reservation is at the Bistro de Paris, a repeat visit on this trip, we last ate here in Oct 05.



Its very, very busy in EPCOT tonight. It's the last night of the Food and Drink festival, it's a mosh pit trying to work our way towards France, surprisingly there are lots of young Americans out of their faces in groups everywhere, must be taking advantage of the cheap samples and the fact its relatively easy to get a drink in the dark if your underage; in fact its like a night in Manchester.

Finally arrive at Bistro de Paris for a little of a more refined experience. I do have to question one thing about the way this signature restaurant deals with arriving diners though. Why on earth do they leave everyone standing around the bottom of a staircase, would it be too much to ask to have some extra chairs and a proper waiting area, there are at least 7 couples standing around when we are finally taking upstairs.

Our memories of this restaurant are excellent which is one of the reasons we are coming back to it.

We are seated at a window seat overlooking the lagoon and wine is quickly ordered, a lovely sharp Macon Villages.

Jackie is not having a starter, my suggestion that she order one anyway and I eat two falls on deaf ears so I order the Pan seared sweetbreads and Louisiana shrimp.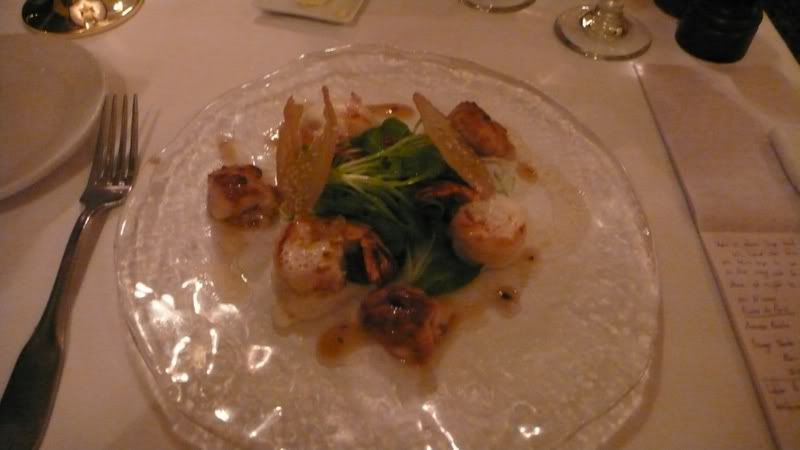 Everything is cooked just to perfection, seared on the outside and caramelised yet not overdone and the sauce is reduced to a richness that is heavenly.
For her main course Jackie chooses the slowly cooked wild Halibut, this was served with a fennel fondue, a thinly diced ratatouille, baby arugula, escabeche and black olive oil sauce. Excellent fish, cooked well and a dish served with a nice balance of vegetables.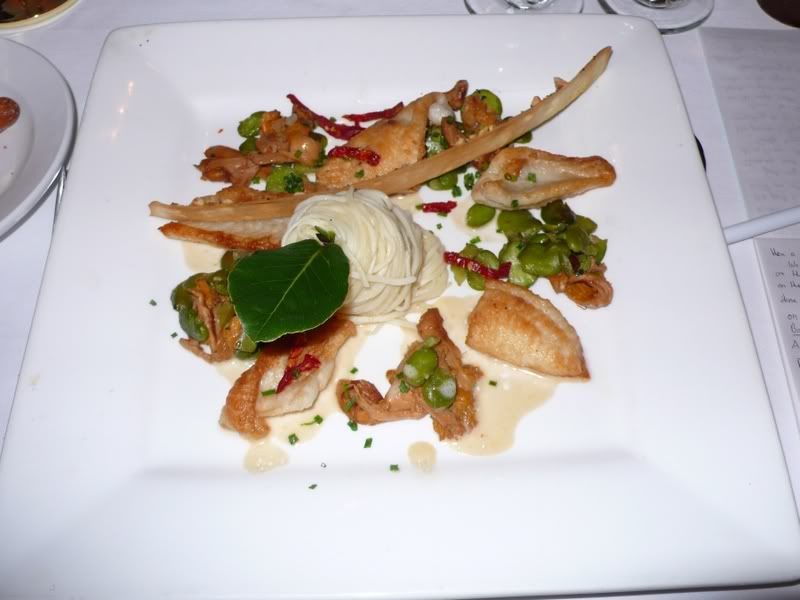 I go for the Dover Sole. This is served with fresh egg pasta and pan seared golden chantrelles and fava beans. Absolutely lovely, once again the fish was fantastically seared on the outside yet juicy and moist inside, it must have seen an extremely hot pan for all of 20secs.
Puddings consisted of Pear Belle Helene for Jackie, once we had cleared up with Henry from Dunkirk the English pronunciation for pear. My guess is he wondered why we were scared!
I chose the Chocolat Moelleux.. yummy.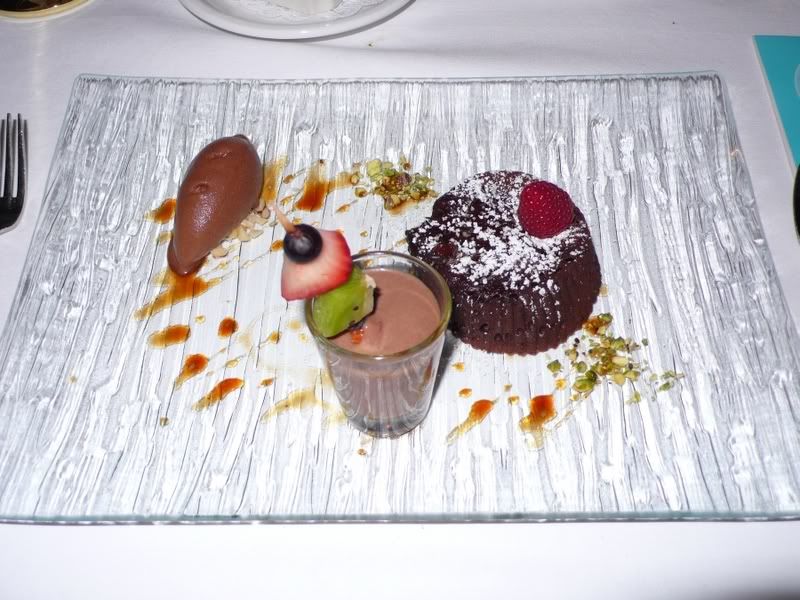 Service was excellent and unfussy as usual and our window seat allowed us to watch Illuminations during the meal.
Total was $165.00 inc the tip and it still remains our favourite EPCOT restaurant.
Danny and Jackie